NTT DOCOMO Ventures, Inc.
NTT DOCOMO Ventures, Inc. (headquartered in Minato-ku, Tokyo, Japan; President and CEO, Takayuki Inagawa; hereinafter "NDV"), through a fund it operates, has invested in Arcturus Studios Holdings, Inc. (headquartered in California, USA; CEO, Kamal Mistry, hereinafter "Arcturus"), which provides volumetric video editing tools and streaming playback technology.
Volumetric video is a technology to reproduce in a 3D space a 3D model of the subject shot with dozens of cameras from all angles and create a highly precise digital image of the movement of the subject. In recent years, it has been used in such fields as sports and entertainment, and then, more and more people have come to be able to have an unprecedented video experience through movies, concerts, TV commercials, etc. created with this new technology.
Volumetric video is becoming popular all over the world with dedicated shooting studios set up in various places. In January 2021, NTT Docomo Inc. (hereinafter, DOCOMO) also installed volumetric video shooting equipment at "docomo XR Studio," an XR photography studio opened in the Telecom Center Building in Odaiba (2-5-10 Aomi, Koto-ku, Tokyo). Meanwhile, various cameras and special devices have been launched by different manufacturers as this new technology has been popularized, which have caused variation in recording formats, shooting specifications, playback methods, etc. and also there are a large number of viewing devices, distribution destinations, and ways to utilize the created images; thus, minor alternations appropriate for various devices and specifications are required in all processes from creation to distribution.
Arcturus provides the integrated platform "HoloSuite" for editing and distributing volumetric video captures aiming to improve efficiency in these processes. "HoloSuite" consists of "HoloEdit," an optimized tool for video editing and compression, and "HoloStream" that automatically adjusts and distributes the edited/processed volumetric video captures according to the viewer's device and communication environment. By using this platform, you can freely capture, edit, and process the 3D image data shot with different devices in various places and add new movements to them, whatever type of devices or shooting methods you use. On top of that, Arcturus can optimize the bit rate during distribution keeping the quality of the video higher than a certain standard with its own technologies, which makes it possible to stream volumetric video captures of high quality.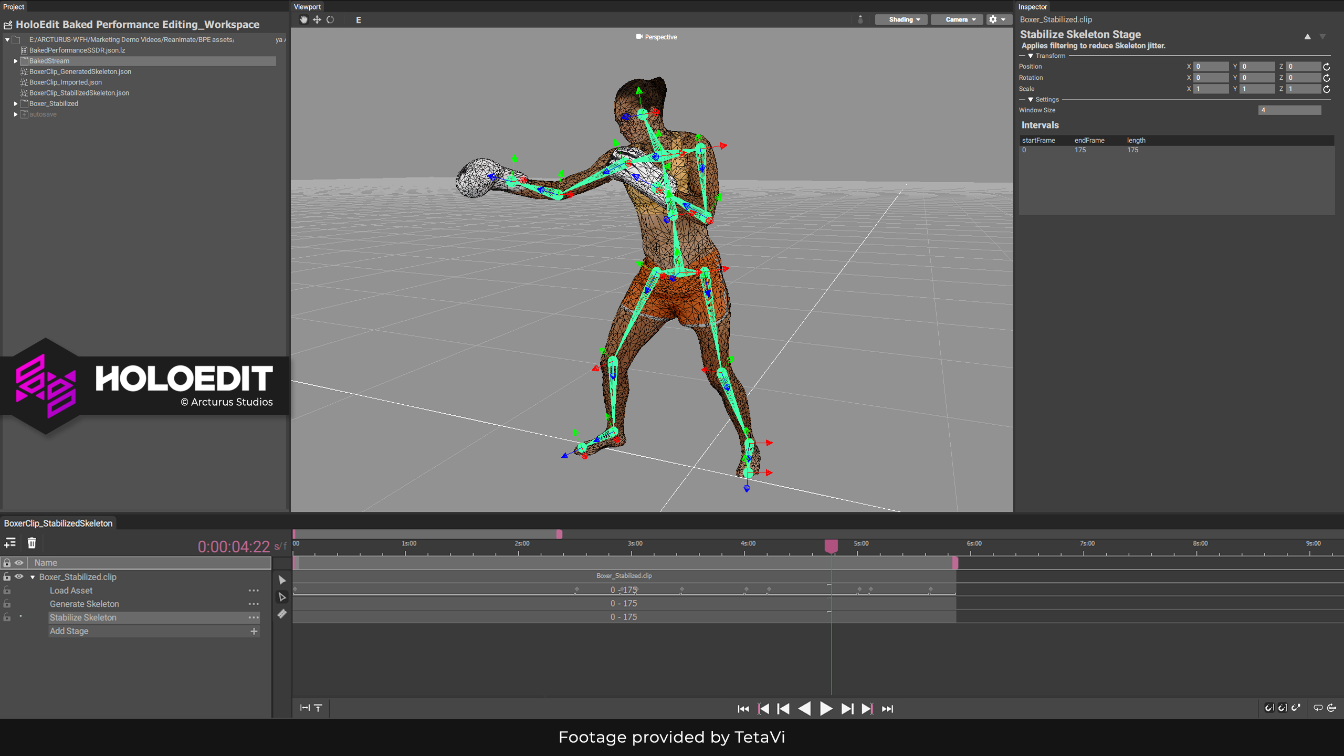 (Screenshot of HoloEdit)
Arcturus expects that volumetric video will be widely used not only in such fields as sports and entertainment but also for e-commerce, interactive media, games, etc., and projects that the spread of AR/VR devices and LiDAR*-mounted smartphones will accelerate this trend. Under these circumstances, NDV has come to make this investment because the services and technologies provided by Arcturus are highly compatible with various services, devices, and 5G communication offered by the NTT Group.
NDV will strive to create new values by supporting the collaboration between Arcturus and the NTT Group going forward.
[Reference]Related Releases
– Develop technology that enables streaming of volumetric video captures for a wide range of users
https://www.nttdocomo.co.jp/info/news_release/2021/01/21_01.html
– Open "docomo XR Studio," an XR shooting studio in Odaiba
https://www.nttdocomo.co.jp/binary/pdf/info/news_release/topics_210114_00.pdf
* LiDAR (light detection and ranging): An optical sensor technology for determining ranges by targeting an object or gauging the shape and properties of an object placed at a distance with a laser.
■ Regarding Arcturus Studios Holdings, Inc.
Company Name: Arcturus Studios Holdings, Inc.
Location: 9290 Civic Center Drive Beverly Hills, CA 90210 United States
Representative: Kamal Mistry
Business Content: Providing "HoloSuite", an integrated platform for editing and distributing volumetric video
URL: https://arcturus.studio/
Company names, organization names, product names, service names, and logos mentioned in this document and the attachments are trademarks or registered trademarks owned by their respective owners.