NTT DOCOMO Ventures, Inc.
NTT DOCOMO Ventures, Inc. (Head Office: Minato-ku, Tokyo; President and CEO: Takayuki Inagawa; hereinafter called "NDV"), through a fund operated by NDV, has invested in RevComm Inc. (Head Office: Shibuya-ku, Tokyo; President and CEO: Takeshi Aida; hereinafter called "RevComm"), an operator of "MiiTel," a cloud IP phone service equipped with AI-powered voice analysis enabling the visualization of sales talks and call center operation quality.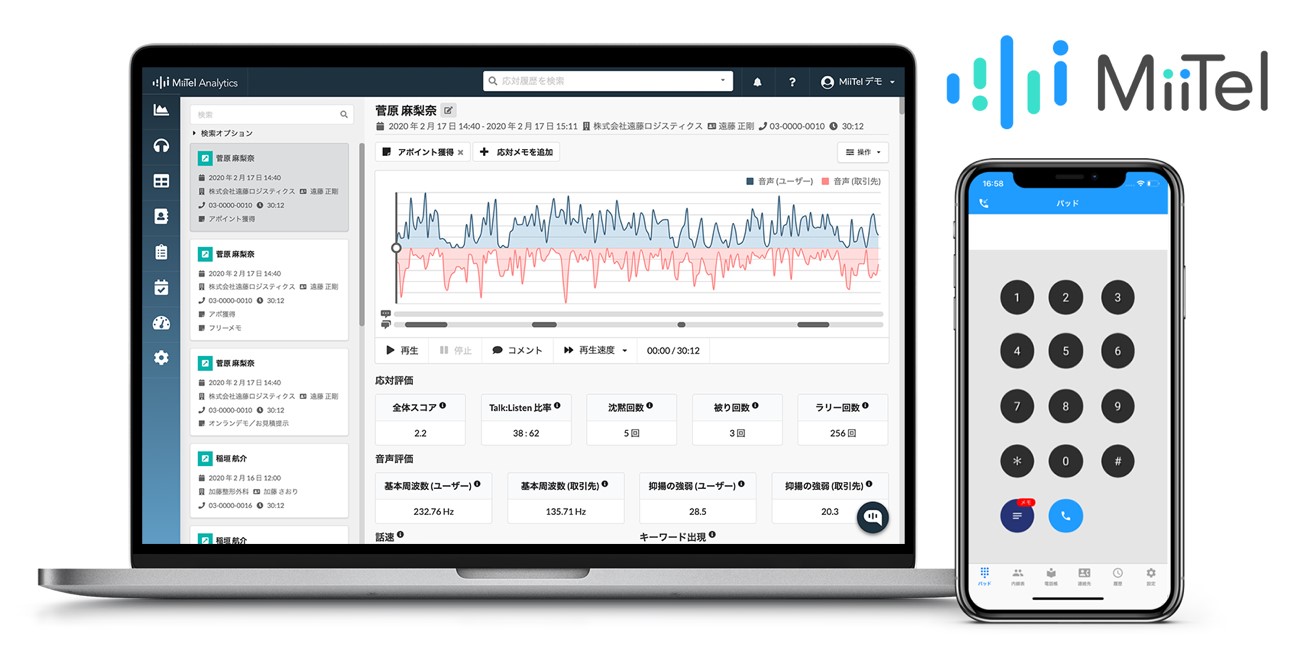 AI-powered voice analysis phone service "MiiTel"
RevComm with its mission of "reinventing communication and creating a society in which people think of people" provides MiiTel, a cloud IP phone service. MiiTel is an IP phone service that contributes to the visualization of communications and the enhancement of call-handling quality by using AI to analyze the content of phone calls in sales talks and call center operations and providing feedback for each call. Many companies have already adopted this service as a solution that contributes to improving the rate of business deals captured and sales close rates, and it is being used by 400 companies and the cumulative number of registered users has exceeded 10,000 (as of August 2020).
The AI-powered voice analysis of MiiTel automatically records and transcribes all phone conversations and converts them into data. Additionally, details of the conversation in the sales talk and inbound calls including the number of back and forth in the conversation, the amount of conversation spoken and heard, the type of conversation, the speed and pitch of the voice, etc. together with the assessment of the entire phone call are fed back quantitatively. By utilizing such data, staff handling the calls can get an idea of the assessment of his or her sales talk and customer-handling skills and work on self-improvement. Supervisors can also gauge the call-handling quality of each staff, which will allow them to provide more specific advice.
The recorded phone calls are classified under detailed categories and may be linked with inhouse data or accumulated in an archive, thus allowing them to be utilized in a wide range of situations including employee education and compliance purposes as well as for sales.
Going forward greater demand for MiiTel is expected, given the increasing importance of non-face-to-face sales activities for companies amid the COVID-19 pandemic. Furthermore, as the services and technologies provided by RevComm including MiiTel are highly compatible with the BPO solutions and the initiatives relating to work innovation offered by the NTT Group, NDV has invested in RevComm with the expectation that it will contribute to the creation of new values in these areas.
Going forward NDV will proceed with efforts to create new values by supporting the linkage between RevComm and the NTT Group.
■ RevComm Inc.
Company name   RevComm Inc.
Address   Hulic Shibuya 1-chome Building,1-3-9 Shibuya, Shibuya-ku, Tokyo, Japan
Representative   Takeshi Aida
Business description Development of AI × Voice × Cloud software database
URL https://www.revcomm.co.jp/
*All applicable company and product names are trademarks or registered trademarks of their respective owners.