NTT DOCOMO Ventures, Inc.
NTT DOCOMO Ventures, Inc. (headquartered in Minato-ku, Tokyo, Japan; President and CEO Yuko Sasahara; hereinafter "NDV") has invested, through its fund, in MFS, Inc. (headquartered in Chiyoda-ku, Tokyo, Japan; CEO Akira Nakayamada ; hereinafter "MFS"), which operates "Mogecheck ," mortgage comparison service.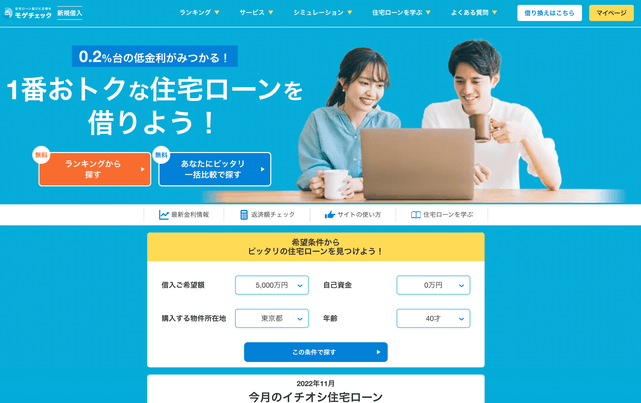 The advancement of teleworking due to the coronavirus disease 2019 pandemic has led to an increasing number of people reviewing their living environment along with their working styles. Furthermore, easing of the monetary policy has kept mortgage interest rates at historically low rates, increasing the demand for mortgages for home purchases and moving to other housing. Housing is the largest purchase for an individual, and even though approximately 80% of people take out a mortgage, it has become difficult for users to select the best mortgage loan for themselves based on a comprehensive evaluation of interest rates, coverage, and other ancillary service.
With the aim of creating a new financial service on the truly user-side , MFS offers Mogecheck, a free online service that suggests the best mortgage loan for the user. Using its own logic developed by analyzing data from more than 10,000 previous loan applications, MFS can determine a user's "mortgage loan amount available" and "loan approval probability (probability of being approved for a mortgage loan)." This allows users to know the best mortgage loan for their needs simply by inputting attribute information such as annual income, age, and area of residence, thereby solving the major housing problem of "selecting a mortgage loan."
The NTT DOCOMO Group has been expanding its business domain into digital financial businesses, including the provision of personal loan services, and NDV believes that there is a high correlation between the services offered by MFS and the Group's these efforts, leading NDV to make this investment in anticipation of its future prospects.
Through this investment, NDV will encourage the discussions on future collaborations with the NTT DOCOMO Group and work to create new value.
■About MFS
Company name: MFS, Inc.
Address: FINOLAB, Otemachi Bldg. 2F, 6-1, Otemachi 1-chome, Chiyoda-ku, Tokyo
Representative: Akira Nakayamada
Business profile: Operation of "Mogecheck," online mortgage comparison service
(URL: https://mogecheck.jp/)
Operation of online real estate investment services "INVASE"
(URL: https://investment.mogecheck.jp/)
URL: https://www.mortgagefss.jp/
*All company names and product names are trademarks or registered trademarks of their respective companies.