2019.4.8
Investment
NTT DOCOMO Ventures, Inc.
NTT DOCOMO Ventures Invests in KPISOFT Pte Ltd
NTT DOCOMO Ventures, Inc. (headquartered in Minato-ku, Tokyo, Japan; President and CEO, Takayuki Inagawa) has invested, through its fund, in KPISOFT Pte Ltd (headquartered in Singapore; CEO, Ravee Ramamoothie, hereinafter referred to as "KPISOFT"), which provides cloud-based enterprise performance management solutions.
1. Outline of the investment
NTT DOCOMO Ventures, Inc., through the fund it operates, has acquired shares of KPISOFT through the company's third-party allotment.
2. Background of the investment
Things like enterprise performance management (EPM) or business intelligence (BI) have been used since before as a tool to manage/enhance enterprise performance. Nevertheless, there has an issue of linking the benefits of these tools to the performances of individual employees because the use of analytical findings by such tools is limited to some people within an enterprise.
The solution of KPISOFT comprehensively analyzes various data that exists in EPM, BI, human resources management and other relevant systems within an enterprise on a single platform. Moreover, the solution has a function to automatically distribute the analytical findings directly to individual employees in an action proposal form by using machine learning and natural language processing.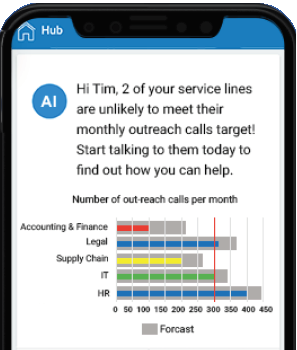 Screen example of smartphone application for employees
This enables enterprises to make use of analytical findings on enterprise performance and directly and automatically support the actions of individual employees. Technology that automatically provides suggestions or proposals drawn from such data analytical findings is called augmented analytics, and it has been attracting attention in the area of data utility for business activities in recent years (*1).
NTT DOCOMO Ventures, Inc. has made this investment because we highly expect that the services and knowhow KPISOFT provides will bring added values to EPM or BI the NTT Group offers.
(*1) Gartner article "Augmented Analytics Is the Future of Data and Analytics"