NTT DOCOMO Ventures, Inc.
NTT DOCOMO Ventures, Inc. (headquartered in Minato-ku, Tokyo, Japan; President and CEO, Yuko Sasahara; hereinafter "NDV"), has invested, through its fund, in JumpCloud Inc. (headquartered in Colorado, USA; CEO, Rajat Bhargava; hereinafter "JumpCloud"). JumpCloud offers a cloud directory service to unify device and identity management, a service best suited for the era of remote work.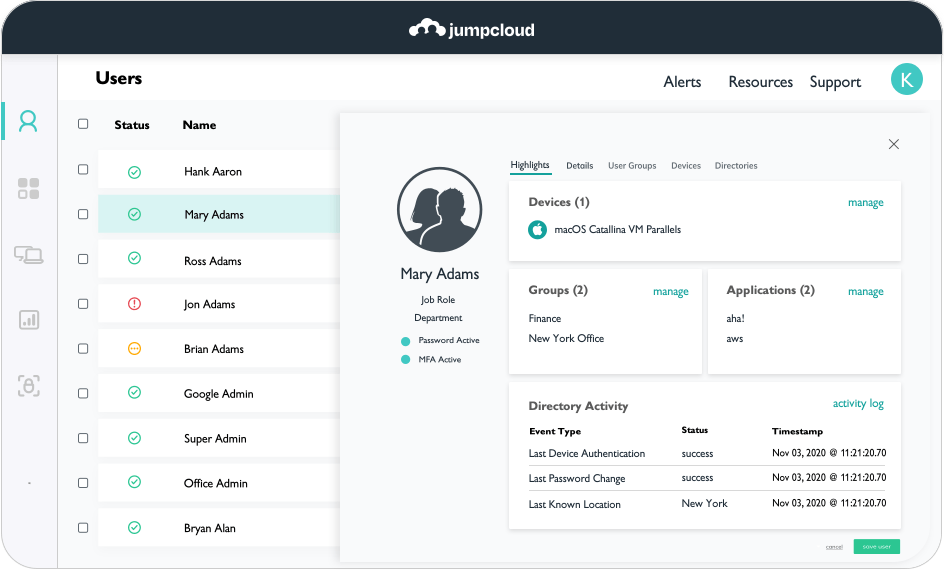 The visualized image of JumpCloud's service
More people have been working remotely worldwide because of the coronavirus disease 2019 (COVID-19) pandemic. In the United States, working from home or other remote locations using several IT tools, such as groupware and online conference systems, has become increasingly common. In Japan as well, remote work has taken root as a new work style because the central government encourages private companies and local governments to promote telework. On the other hand, many incidents related to information security have occurred, and the number of such cases reported has been surging, particularly during the COVID-19 pandemic. This suggests the possibility of teleworking being introduced without sufficient security measures.
With a cloud-based directory platform to unify device and identity management at the core, JumpCloud provides a set of security functions necessary for remote work through SaaS*1. The company's cloud service can be used anywhere as long as the user is connected to the Internet. Users who do not have expertise in IT can also complete various security settings with simple operations. Specifically, JumpCloud responds to MDM solutions*2 that support operating systems, such as Windows, Mac, and Linux. Currently, it is possible to securely link to about 700 IT services via SSO*3. Moreover, multifactor authentication, such as biometrics and one-time passwords, can be combined, enabling settings that satisfy the security level required by each company. JumpCloud's services are used by more than 3,000 companies in about 140 countries worldwide as a solution suited to the remote work environment where multiple devices and IT tools are used (as of September 2021).
In September 2021, the NTT Group announced its intention to adopt remote work as a standard work style for its employees and allow them to choose their own workplaces, aiming to enable new ways of working at home and satellite offices in the future. Under the slogan "A Solution for Every Work Environment," JumpCloud aims for solutions applicable to all working environments, including remote work, and has developed services to that end. As the services provided by JumpCloud and the company's direction are highly compatible with NTT Group's initiatives, NDV has made this investment.
NTT DOCOMO, INC. offers corporate customers the "Business d Account," which enables them to use various services and solutions with a single ID and supports their DX*4 through various services and contents that correspond to the account. With the aim of creating synergies between JumpCloud and the NTT Group, we will continue to support measures to create new value, including linking with the Business d Account in the future.
*1: SaaS stands for Software as a Service and refers to software offered on the cloud. Users do not need to install software programs. Instead, vendors activate software, and users use the functions of the software via the network.
*2: MDM stands for Mobile Device Management and refers to services and software to manage mobile devices, such as smartphones and tablet devices, making it possible to control and operate multiple target mobile devices from remote locations.
*3: SSO stands for Single Sign On and refers to a system that enables the use of multiple systems (operation apps, cloud services, etc.) with a single user authentication.
*4: DX stands for digital transformation and refers to the use of digital technologies to transform lives and businesses.
■Regarding JumpCloud Inc.
Company name: JumpCloud Inc.
Location: Louisville, Colorado, the United States
Representative: Rajat Bhargava
Business content: Offering cloud directory service to unify device and identity management and other services
URL: https://jumpcloud.com/