NTT DOCOMO Ventures, Inc.
NTT DOCOMO Ventures, Inc. (headquartered in Minato-ku, Tokyo, Japan; President and CEO Yuko Sasahara; hereinafter "NDV") has invested, through its fund, in FastLabel Inc. (headquartered in Shinagawa-ku, Tokyo, Japan; Representative Director and CEO Eisuke Ueda; hereinafter "FastLabel"), which supports Japanese businesses in improving productivity and quality in artificial intelligence (AI) development by automating the creation of training data necessary for AI.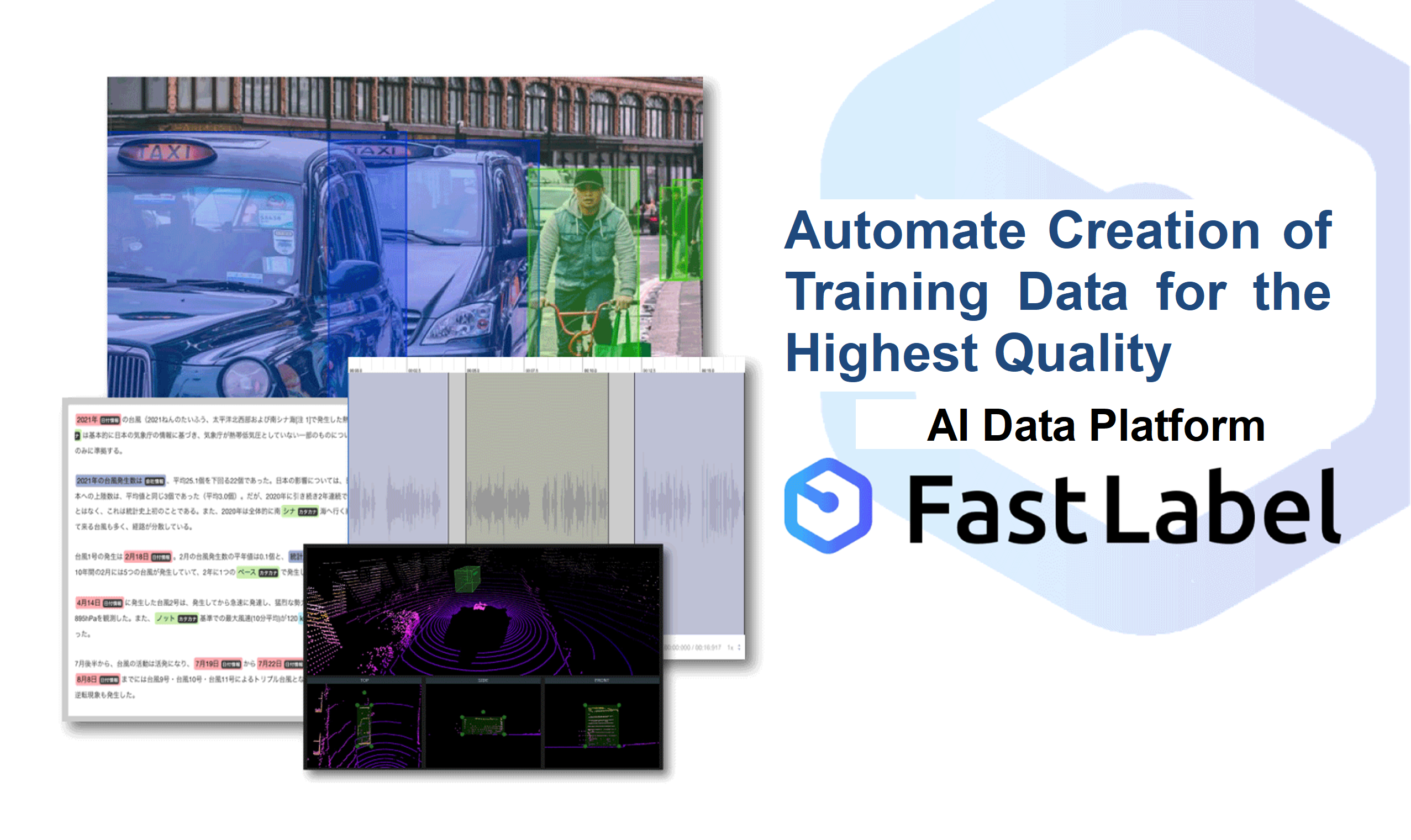 Along with technological progress, the AI market is rapidly expanding, and AI is increasingly utilized in several areas. However, machine learning using high-quality training data sets is indispensable for the improvement of AI accuracy, and training data creation is labor-intensive work, supposedly requiring more than 80% of expenditure on AI development. Moreover, "efficient high-quality training data creation and improvement (annotation)" is essential for developing high-accuracy AI for practical use.
FastLabel has provided its AI data platform "FastLabel" mainly to large businesses in Japan since it was established in January 2020. The platform is a SaaS-based integration platform with automated training data creation, quality/project management, and model learning/evaluation functions, which is capable of offering services such as training data creation, data consultation, and model development. Users can reduce training data creation costs and improve their AI accuracy through this platform.
One year has passed since FastLabel was officially released. It has already been introduced to more than 90 companies, including manufacturers, constructors, telecommunication/infrastructure service providers, and IT service providers. Several companies that represent Japan's industries use this platform.
Accuracy improvement in the utilization of AI is an urgent issue to tackle, and the demand for FastLabel's services is expected to increase as AI is popularized going forward. Further, the company's business is highly compatible with NTT DOCOMO Group's AI platform services, including "DOCOMO Image Recognition Platform," and AI technology utilization initiatives. Therefore, NDV has decided to invest in FastLabel.
Through this investment, NDV will agilely explore the possibility of launching joint projects between FastLabel and the NTT DOCOMO Group and using the platform for solution development, and then will advance its effort to create new value.
■About FastLabel
Company Name: FastLabel Inc.
Address: #201, 5-5-27, Kita-Shinagawa, Shinagawa-ku, Tokyo
Representative: Eisuke Ueda, Representative Director and CEO
Description of Business: Development and provision of AI annotation platforms/provision of annotation services
URL: https://fastlabel.ai/
*All company names and product names are trademarks and/or registered trademarks of their respective owners.
[Attachment] Features of AI Data Platform "FastLabel"
AI data platform FastLabel is an integration platform for automated annotation, data quality management, training data creation, and MLOps development. With annotation tools that enable speedy and accurate training data creation and improvement as well as meticulous annotation services provided by highly skilled tech workers, FastLabel provides fast and high-quality training data creation services.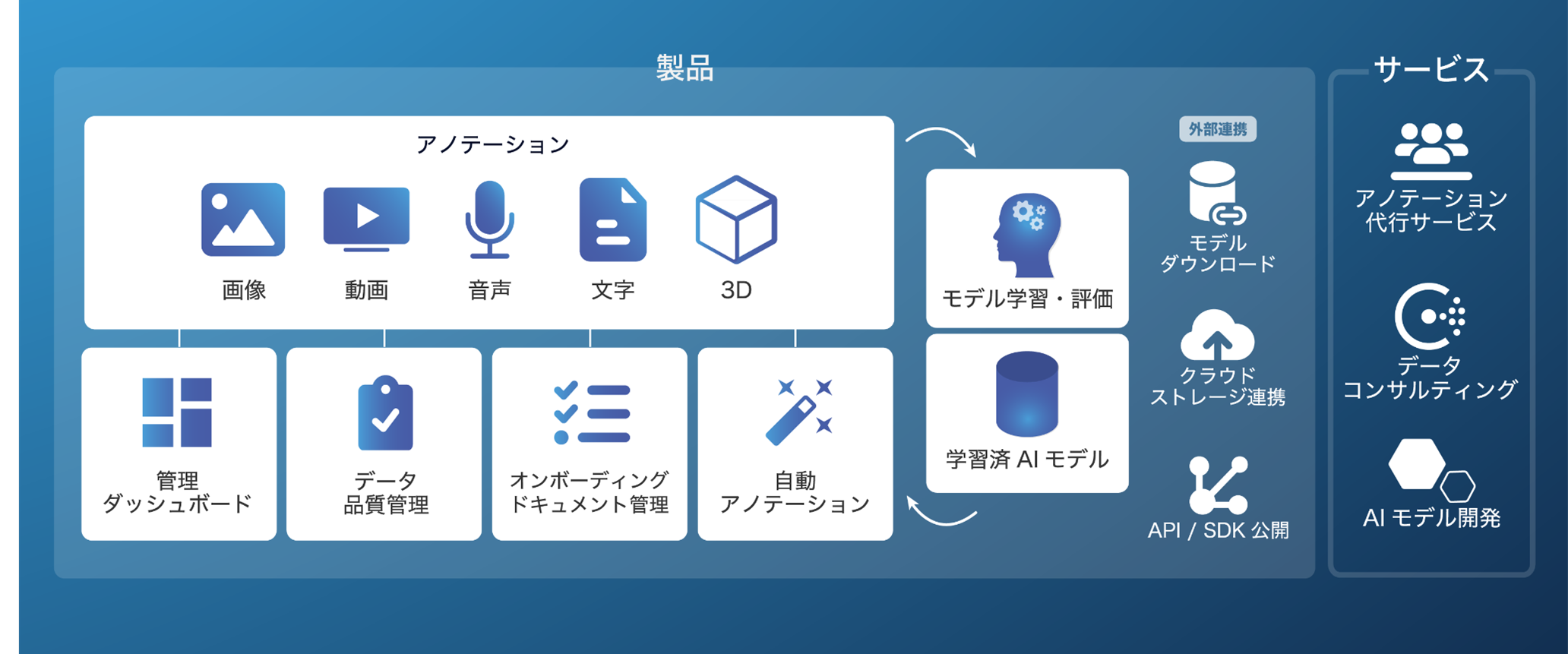 AI data platform FastLabel
Feature 1: Reduce Data Creation Costs by 70% through Automated Annotation
FastLabel can automate annotation using a pretrained machine learning (ML) model for the dataset designed to use AI in a specific scenario in various industries. If the ML model is retrained with manually created annotations, training data can be efficiently created while the accuracy of the model is improved. Further, FastLabel contributes to the improvement of productivity in AI development through various types of automated data creation, such as automation using image analysis and automated audio to text conversion.
Feature 2: High-Quality Annotation Service Boasting Data Quality of 99.7%
FastLabel provides not only annotation tools but also annotation services. To deliver annotation data of the highest quality, it conducts two-step data verification and prelaunch testing on the annotator, builds a support system, including project managers and development teams, and has tool-based close communication with users.
Feature 3: AI Data Creation Know-How Accumulated through the Provision of Support to 100 Companies in Converting More Than 10 M Labels to Annotation
Businesses wishing to improve the accuracy of their AI or planning to work on the development of AI can receive consultation services for training data creation methods, data creation rules, and data improvement. FastLabel has achieved 30% AI accuracy improvement.