NTT DOCOMO Ventures, Inc.
NTT DOCOMO Ventures Corporation, the venture arm of the leading wireless voice and data communications provider in Japan (Head Office: Minato-ku, Tokyo, President and CEO: Jun Yasumoto, hereinafter NDV), has invested in Alation, Inc., (Headquarters: California, USA; CEO: Satyen Sangani), the data intelligence company.
The proliferation of enterprise data has led to a surge in organizations investing in various tools, such as cloud and AI, to modernize their technology stack and build a data culture. These tools allow organizations to leverage data and improve products, services, and business model transformations. However, valuable data often sits in silos that impede people's ability to surface and trust data scattered across the business.
Alation helps organizations simplify complex data environments by centralizing metadata that provides critical context about data no matter where it lives, such as descriptions, origin, and policies. This is data intelligence. With Alation, everyone can search for governed data across the business and surface intelligence that allows people to drive fast, accurate business decisions.
Through automatic suggestions, such as related tables and SQL for data analysis, data teams substantially reduce the time spent on analysis. Additionally, Alation's Data Intelligence Platform prompts knowledge sharing among data analysts by enabling them to store and share their knowledge and insight in articles. This powers an intuitive interface with a search engine and easy navigation for data analysis, enabling data analysts to work more efficiently.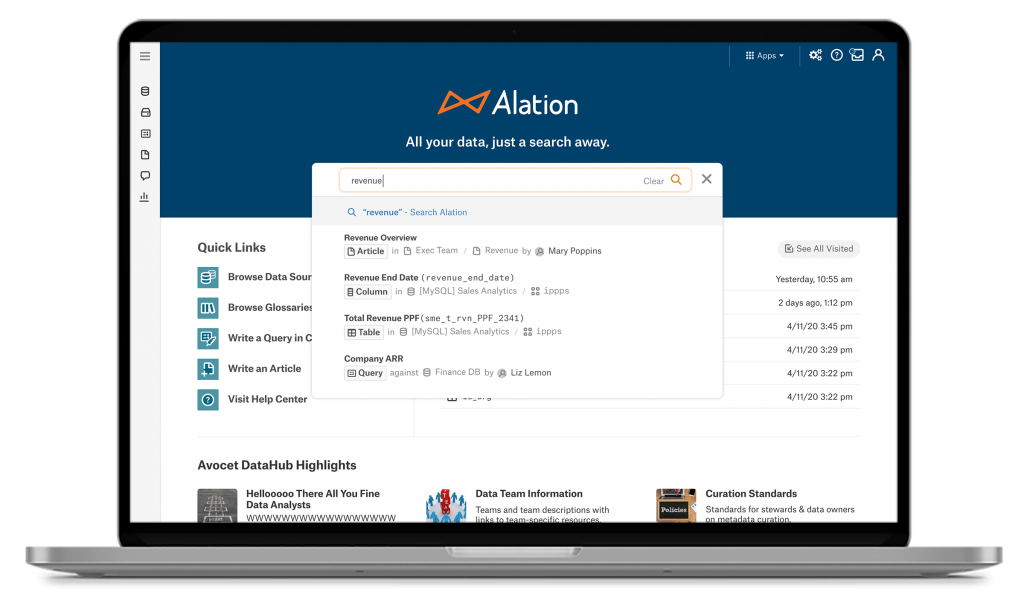 NTT DOCOMO leverages Alation to create new value through data-driven approaches and provide end-to-end client support, ranging from AI and data utilization consulting to infrastructure construction and operational support.
Alation makes it easy for more than 450 enterprises worldwide, including NTT DOCOMO and 35% of Fortune 100 companies, to find, understand, and trust the data they need to become data-driven. NTT DOCOMO actively utilizes Alation's Data Intelligence Platform, which has reduced the workload of its data analysts by up to 30%. The company invested in Alation following the successful implementation of the platform to strengthen the companies' collaboration and further advance data initiatives throughout the NTT Group and its clients.
About Alation, Inc.
Company Name: Alation, Inc. (Commonly known as "Alation")
Address: Redwood City, California, the United States
Representative: Satyen Sangani
Description of Business: Provider of enterprise data intelligence solutions
URL:   https://www.alation.com/
Alation is the leader in enterprise data intelligence solutions, enabling self-service analytics, cloud transformation, and data governance. More than 450 enterprises build data culture and improve data-driven decision-making with Alation, including Cisco, Nasdaq, Pfizer, Salesforce, and Virgin Australia. Alation has been named to Inc. Magazine's Best Workplaces list four times, is a 2022 UK's Best Workplaces™ in tech and Best Workplaces™ for Women, and recognized as a 2022 and 2023 UK's Best Workplaces™. For more information, visit www.alation.com.